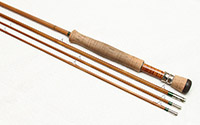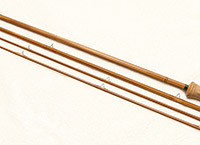 Scroll down for more photos
Taper
S400
Length & Configuration
9'0" - 3/2 - Hollow
Line Weight
8/9
Seat
C22 w/ Curly Koa Insert
Grip
FW
Ferrules
CSE ST
Guides
REC RECOIL
Wraps
Clear w/ Forest Green Highlights
Price

$1795

-

Sold!
Description
This rod is a 9'0" 3 piece, 2 tip 8/9wt that is hollow built. It is based on a variation of some of the heavier Payne tapers with a medium fast action and plenty of power for steelhead, saltwater, or medium to large salmon. Rod is in excellent condition with light grip soling and one or two small cosmetic scratches in the varnish. Witness wraps at 30" and 40". I used this rod for a handful of days fishing for spring steelhead and late summer coho. A very nice big fish, big water rod. Includes aluminum rod tube and sack.

Price is $1000. Free USPS shipping within the US. International shipping is available at cost.